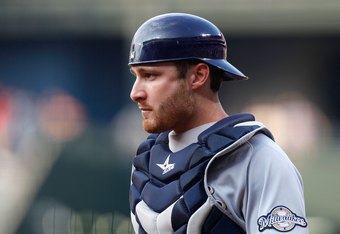 The last time the Brewers had a home grown catching prospect as the opening day starter? 1998. Mike Matheny was a home grown Brewers prospect but he might be more known for his time as a Cardinal and was gone after 5 years. Before that, B.J. Surhoff in 1993.
They changed that Monday by locking up home grown prospect Jonathon Lucroy for 5 years/$11 MM (depending on Super Two status), buying out all of his arbitration years and a club option for a 6th year (first free agency year). And giving the Brewers someone better than Johnny Estrada for at least half a decade.
It's true Lucroy has not been the Brewers starter on Opening Day for either of his two years of starting, but he was been the Brewers regular catcher. Gregg Zaun only started for a few weeks, Wil Nieves will holding a spot while Lucroy came back from injury.
Since coming into the Major League's Lucroy has given the Brewers' something they haven't had in over a decade. They've had their ace, their home run hitter, their MVP candidates but not a young every day starter behind home plate.
Luc definitely has to guarantee some important attributes for the Brew Crew as an organization. While Lucroy's bat still may be developing, he is an amazingly good defensively. His ability to frame pitches has been very well publicized. Rough statistics on the run saving abilities of framing pitches showed Lucroy was THE BEST catcher the last two years at getting extra outs. Luc's ability to get the extra outs on the edge of the strike zone is just as important as having a Short Stop with range and defensive ability. After all where does the battle to get on base start? Home plate, and Lucroy's goal is to leave them there.
Aside from his ability to frame pitches, he has also been one of the best in the normal defensive metric scales. He allowed the least passed balls last year, allowed the 5th least stolen bases and was in the top 10 at successfully catching those base runners. Lucroy does exactly what you want, calls a clean game and doesn't let runners get the extra bases other catchers may let them steal through extra balls and stolen bases. The difference between an out and a runner in scoring position can mean the game at the end of the day. All those attributes combined leave Luc with the 4th best cERA in 2011.
While it's true that Luc has not been the bat we expected while he was in the minors, he is still only two seasons in. Despite small drops in average and on base percentage, he has shown long streaks where he was producing at that top notch that turned him into the Brewer's top prospect behind the plate and first long term option behind the plate in over a decade. It's still a young career and more patience when batting should turn Luc into the bat we saw in the minors.
Knowing you have a catcher that will probably always have a positive WAR, the same person learning how the same pitchers operate off the mound, and defending the bases almost as well as anyone else, Lucroy will give the Brewers at least 4 more years of reliability behind the plate. Something they haven't had for over a decade. I guarantee one thing and one thing only… he will be better than Johnny Estrada was for the Brewers.
-Brad