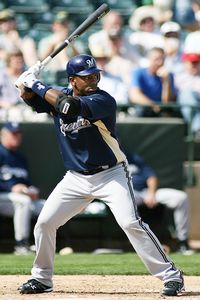 After the Milwaukee chapter of the BWAA totally whiffed on the team awards,
Miller Park Drunk
wrote a post ripping them (mostly the Journal Sentinel staff) to no end for picking Casey McGehee as the Team MVP, as well they deserved to be ripped for that crap. No doubt McGehee had a great season, but to pick him as MVP over say Rickie Weeks, who won our Team MVP award is downright ridiculous and the stats prove it. So this got Jaymes over at
The Brewers Bar
thinking that members of the Brewers Blogosphere should also vote on the team awards and that McGehee would not get a single first place vote.
Here
are the results of that vote. Just want to thank Jaymes again for letting me cast my ballot. Here is said ballot:

Team MVP:

1. Rickie Weeks
2. Ryan Braun
3. Prince Fielder

Most Valuable Pitcher:

1. Yovani Gallardo
2. John Axford
3. Randy Wolf

Top Newcomer:

1. John Axford
2. Lorenzo Cain
3. Jonathan Lucroy

Unsung Hero:

1. Kameron Loe
2. Zach Braddock
3. Jonathan Lucroy

Good Guy Award:

1. Trevor Hoffman
2. Rickie Weeks
3. Casey McGehee