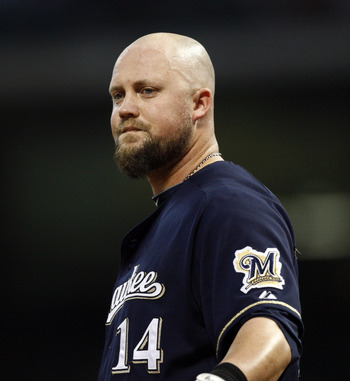 With his bad showing at the plate this season, and questions about his lack of value, Casey McGehee is making fans breath a sigh of relief that a contract extension wasn't signed. I am not one of them, and some fans should look past the initial numbers this season and try to remember what happened in previous years. This isn't some flash in the pan, got hot for two weeks, rookie call-up, as McGehee proved in over 1000 PAs the past two seasons where he boasts 170 RBIs and a batting average of .293. That is as consistent production from third base as you can ask for, but this season has been completely opposite from past seasons.
When I first took a good look at McGehee's stat sheet the glaring holes were obvious, like average, on-base, and slugging, but their had to be another story here than just bad mechanics or approach at the plate. Looking a little deeper you can see that his approach is about the same as his average, taking walks 7.8% of the time and striking out about 17% of the time. So, the next place I looked was his contact rates. Is he just swinging at bad pitches, or are players pitching around him? Neither appears to be true either since his O-Swing%/Z-Swing% are only slightly down, about 2%, however his Contact% has gone up and he isn't getting fooled anymore than usual at the plate.
In my mind the two stats that tell the biggest story on McGehee's slump is his BABIP and ISO. McGehee is one of the few batters in the majors to be pretty luck neutral, in that his BABIP is usually within a few points of his actual average, but down from .306 in 2010, he is sitting on a .252 and right now McGehee seems to finally have a black cloud over his head. With higher ground ball rates, and decreases in line drives and fly balls, Casey has seen his power go from an ISO of .179 to a paltry .094. With McGehee's lack of speed, and his usually average to below glove, he needs to find a way to bring his 100+ RBI power back into the Brewers line up. Casey seems to be trying everything to get his power stroke back, like changing his stance or just trying to hit for contact, but his best efforts so far have yielded no results except DPs and groundball outs.
Casey has been trying to work back, getting 3 singles in recent games, yet his average still sits at about .080 for the last week or so, with no production coming out of those singles either. With all these factors taken into effect the only conclusion I can come up with is it is a mental issue, and not so much a fundamentals problem. This guy can hit when he is on, no one would deny that, but is it possible that he is holding himself back at this point instead of settling into the role the Brewers and all fans want him to fill? Maybe it's just a matter of his bat speed being slower than past years, maybe it's pressure to perform at a high level because of the team around him, or maybe he is just the unluckiest player in baseball. One thing I do know is if he doesn't find a way to get on base soon he is going to be dropped in the order as opposing pitchers give Fielder nothing to hit knowing Casey and his .225 average are up next.
I believe Casey will turn things around soon, and while 100+ RBIs is probably out of the question now, 75-80 isn't a long shot if he can figure out his problems at the plate. Long story short: He is a fan favorite who loves playing in Milwaukee and is involved in the community, really those are all intangibles that his stats aren't going to show. Give McGehee a chance and I think he still may surprise us all before it's over.
-Alex